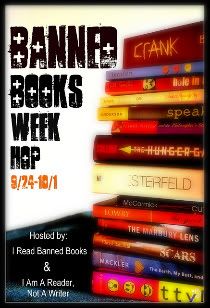 Banned Books week ( in the states) begins today and runs until next Saturday October 1st. The Canadian version of Banned Books Week called "Freedom to Read" is usually in February.
Both are important weeks and need our support. Books are empowering, freeing, address issues, start conversations and often remind us that we are not alone. Books are not dangerous. They are memory makers and life savers. We have the right to read what we want and we should always have the freedom to choose and ensure that others have that freedom as well. For more information check out this link-
http://www.bannedbooksweek.org/
To bring awareness to Banned Books Week I'm participating in the Banned Books Week Giveaway! Special thanks to Jen from
I Read Banned Book
s and Kathy from
I Am a Reader, Not a Writer
for hosting the hop. The giveaway opens today (September 24th) and closes October 1st with one winner chosen at random and announced on October 2nd. To enter just fill out the form. The winner will be able to select one book from the list of top ten banned books in 2010 below. Be sure to visit the other blogs participating! Just visit Jen or Kathy's blogs for the link list!
The Top Ten Banned Books in 2010
1) And Tango Makes Three, by Peter Parnell and Justin Richardson
2) The Absolutely True Diary of a Part-Time Indian, by Sherman Alexie
3) Brave New World, by Aldous Huxley
4) Crank, by Ellen Hopkins
5) The Hunger Games, by Suzanne Collins
6)Lush, by Natasha Friend
7) What My Mother Doesn't Know, by Sonya Sones
8) Nickel and Dimed, by Barbara Ehrenreich
9)Revolutionary Voices, edited by Amy Sonnie
10) Twilight, by Stephenie Meyer